Show Blog Widgets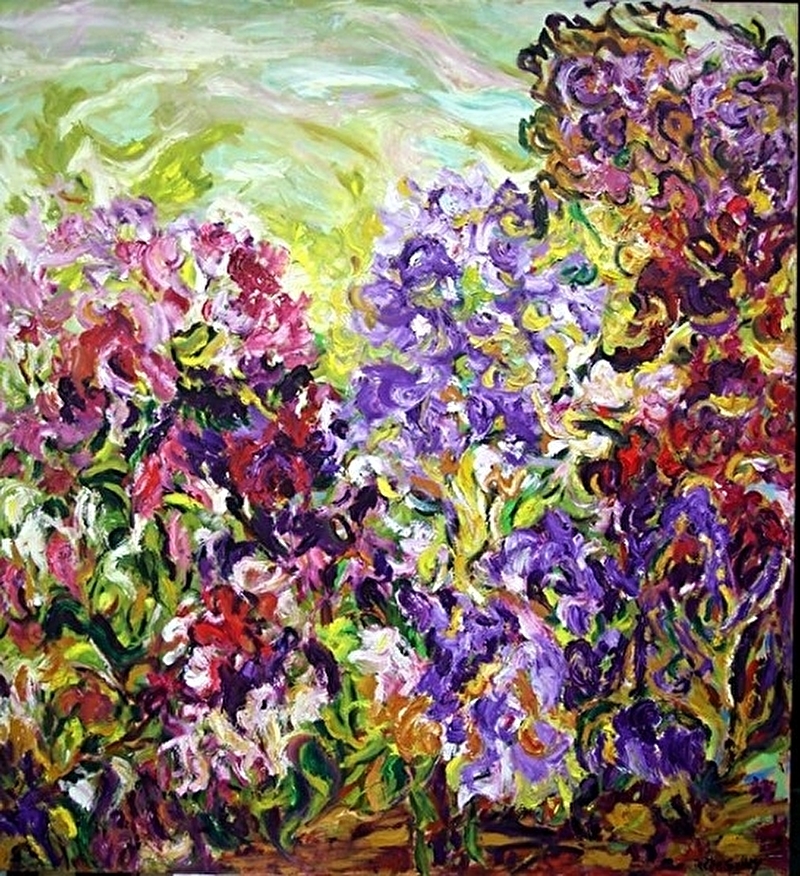 CRYING  FLOWERS
A story about healing
54" X 50"
I had not been able to paint for many months, since the death of my little grandchild Josephine. She was 2 ½ years old.
I was numb and had no creativity left.
One morning, as I was seating on my back porch' steps, my eyes got caught by the pink flowers in front of me. They were dancing in the morning sun.
Somehow, they reminded me of Josephine 's joy, of her excessive thirst for life, of her enthusiasm for flowers, for chocolate, for dancing, for running, and most of all for her parents. It reminded me of her dramatic approach to life.
Suddenly, I needed to go to my studio. I was going to draw her, paint her.
I did several charcoals, painted her in all colors, but it was at the end a pile of mud. No drawing could match my perception of Josephine.
I felt miserable and thought that I could never paint again. That was it.!
The next morning as I was walking through my garden, I saw the same flowers looking at me and I remember thinking: "why not?"
I went back to the studio and settled the largest canvas I could find on my easel, I mixed all the pinks I could imagine, all the purples that she liked so much.
With a piece of clothe I primed my canvas with a chartreuse green, which is the color of her play-room and while it was drying, I went back to the garden with a small canvas and sat in front of the flowers.
While I was sketching my thumbnail, I realized that I was looking at the flowers, but seeing Josephine.
When I came back in front of my big canvas, I first started timidly to address the shape and composition, but then it happened: the urge to paint.
Layers of tears, layers of pink paint, layers of purple and white paint. They were all layers of love
Today I look at this piece and I do not know if it is good.
I do know that, I Love it.